ANNOUNCEMENTS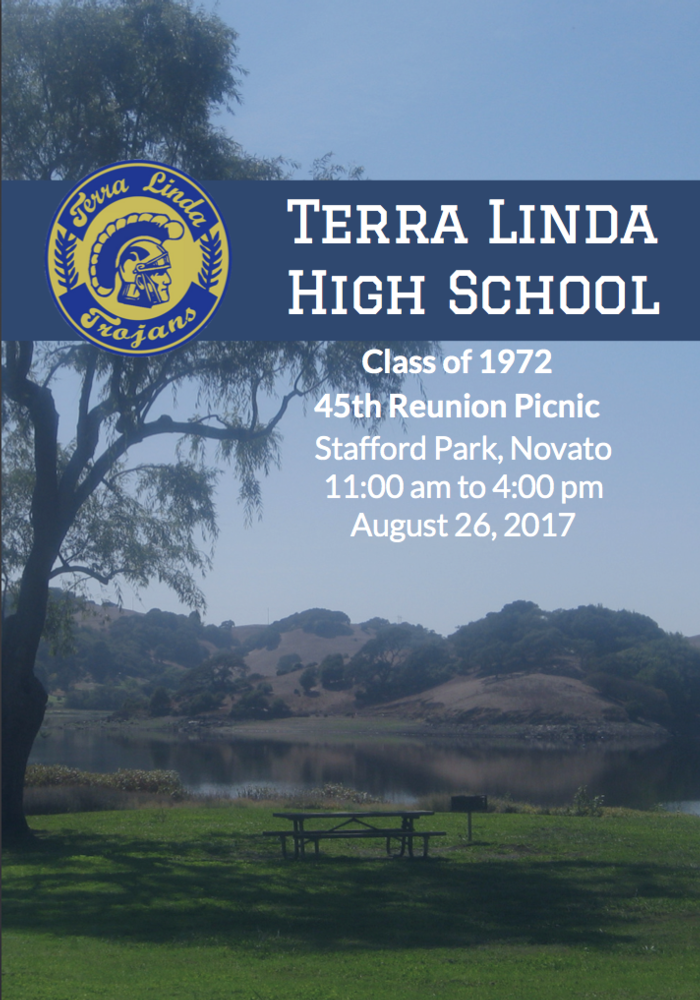 The class of 72 is having their 45th Reunion and is inviting the classes of 71 and 73 to join us in the celebration. If you are from another class and would like to attend you can register as well, but please note preference will be given to the classes of 72, 71 and 73.
To purchase ticket(s) you can do either of the following:
To purchase the ticket directly through our website and have access to photos and class pictures, you will need to join as a guest member. Click the Join Website link below. Once you have registered you will receive a confirmation of your guest membership and you will then have full access to the website and be able to purchase your ticket(s).

JOIN WEBSITE
If you prefer not to register on our website you can contact Ava Talamantez at

ava.tlhs72@gmail.com

and request an PayPal invoice to be emailed to you and you can pay through PayPal directly.
We look forward to seeing you there!
Welcome to Terra Linda High School's Class of 1972 Official Website!
This website is dedicated to our classmates for the purpose of promoting, celebrating and reconnecting with all members of Terra Linda High School Class of '72.
Here you will find the most complete database of everything from our class, created and managed by your reunion committee, free of charge to you. You will find up-to-date reunion information, plenty of memories and a great way for you to see what's become of everyone. This is our permanent Class of '72 website for the next 5 years, so come back often and update your information as it changes.
To access all pages, please login.
If this is your first visit, here is how to get started:
Click on the "Classmates Profile" link on the top menu bar scroll down and find your name, click on it and follow the prompts to fill out your profile.
If your name is not listed, use the "
Contact Us
" link to notify us, so that we can add you to the list.
Please supply your home address, email address* and phone number, and if possible, upload a recent photo. Your yearbook photo is already loaded, if your picture was printed in the yearbook. If you do not want your senior portrait posted, you can "
Contact Us
" to have it removed.

If you are a visitor, such as school faculty, family, friends or Terra Linda High Alumni and you would like to see more of our site, just send an e-mail through the "
Contact Us
" link at the top of this page, requesting the password with your name and e-mail address so we can get back to you.